Granite High School
Class Of 1963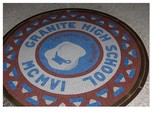 ANNOUNCEMENTS
•

August 7th, former Beatle, Paul McCartney, rocked the Energy Solutions Arena. It was a FAB concert! I saw a couple of Granitians there. If you were at the concert, post something on the "What's New" link and let us know how you enjoyed it!

•

Rockin' Reunion

The "Granite Rockers" rocked West Jordan on June 21st at a Rockers Reunion and birthday party, where we ate, sang and were entertained by Kendall and Judy Barrowes. A fun time was had by all. Pictures have been posted at the link on the left.

•

DID YOU KNOW?

Notify me:

If you want to receive an email whenever the website is updated or Announcements are added or changed, simply click on the "Notify Me" link under "Member Functions" on the navagation panel at the left of this page. You can then choose the kind of notifications you want to receive and the frequency of which you want to receive them.

Announcements:

If you want to announce something to the class, click on the "Post Announcement" link or just send an email to the Administrator with the information and we'll post it for all to see!

Private Email between Classmates:

Although you cannot see email addresses, you can send a private email message to someone from the website and then exchange information. Be careful, though. Unless you click "Send Private Message" under the classmate's picture, your comments will be posted to everyone that's logged in. "Post Comments" means it will be on the bulletin board for all to see.

Important Updates:

This website will be maintained after the 50th Reunion, so please update your information as it changes, and encourage others to register and update their profiles, so we can keep up with all of our friends and classmates from this amazing class.

Secure Profiles:

You can feel secure knowing that only your answers to the questions on your profile will be visible to the Class. Your private information, such as your address, telephone numbers and email addresses will not be accessible by anyone but the website Administrator. This information will only be used to contact you about events pertaining to the class. The list cannot be accessed by someone wanting to sell you something.