Granite High School
Class Of 1963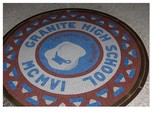 ANNOUNCEMENTS
•

Rockin' Reunion

The "Granite Rockers" rocked West Jordan Saturday night at a Rockers Reunion, where we ate, sang and were entertained by Kendall and Judy Barrowes. A fun time was had by all. Pictures will be posted soon.

•

Congratulations to Jim Sargent!

Another great achievement by one of our own! Jim graduated May 2nd from the University of Utah with a degree in English. Check out the interview and article about Jim on KSL.com

•

Ed Catmull's New Book: Creativity, Inc. on New York Times Best Seller List!

Congratulations, Ed! Another stunning accomplishment by one of our amazing Granitians!

Check out Ed's TV interview about his new book on Tavis Smiley Show:

http://www.pbs.org/wnet/tavissmiley/interviews/ed-catmull/

You can also read Ed's intereview with the Telegraph in the UK:

http://www.telegraph.co.uk/culture/pixar/10719241/Pixars-Ed-Catmull-interview.html

Ed was also interviewed for a whole hour on NPR by Diane Rehm. The interview should be available soon at: http://thedianerehmshow.org/

Ed's book can now be ordered from Amazon.com. It's a great read!

•

From JoAnn Backman McQueen....I know there are a lot of Beatles fans out there from our class. Just wanted to let you know that we went to see The Fab Four in Wendover a couple of weeks ago. They were wonderful! If you ever get a chance to see this group perform, you won't be disappointed. They start off with their earliest stuff, and with costumes and all, go thru to the end of their recordings. I know lots of groups sometimes play at the Sandy Ampitheatre...so if you see them there and loooooooooove the Beatles, do go!

I know, I know...the real thing...Paul...is also coming here but this is a chance to relive the old songs from the whole group!

•

DID YOU KNOW?

Notify me:

If you want to receive an email whenever the website is updated or Announcements are added or changed, simply click on the "Notify Me" link under "Member Functions" on the navagation panel at the left of this page. You can then choose the kind of notifications you want to receive and the frequency of which you want to receive them.

Announcements:

If you want to announce something to the class, click on the "Post Announcement" link or just send an email to the Administrator with the information and we'll post it for all to see!

Private Email between Classmates:

Although you cannot see email addresses, you can send a private email message to someone from the website and then exchange information. Be careful, though. Unless you click "Send Private Message" under the classmate's picture, your comments will be posted to everyone that's logged in. "Post Comments" means it will be on the bulletin board for all to see.

Important Updates:

This website will be maintained after the 50th Reunion, so please update your information as it changes, and encourage others to register and update their profiles, so we can keep up with all of our friends and classmates from this amazing class.

Secure Profiles:

You can feel secure knowing that only your answers to the questions on your profile will be visible to the Class. Your private information, such as your address, telephone numbers and email addresses will not be accessible by anyone but the website Administrator. This information will only be used to contact you about events pertaining to the class. The list cannot be accessed by someone wanting to sell you something.